The 2021 CPM SHORT COURSE and MCPR TRADE SHOW will be held December 7th - 9th exclusively at the Minneapolis Hilton hotel.
More information will be available in the coming months - please check back shortly!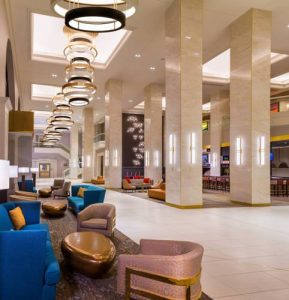 The MCPR and U of MN Extension are announcing that the Crop Pest Management Short Course and Minnesota Crop Production Retailers Trade Show is planned to be held at the Minneapolis Hilton Hotel. That's right – at the Hilton! Expect the outstanding educational program over three days and an outstanding trade show experience all in the comfort and convenience of the Hilton Hotel.
MCPR Board members and U of MN Extension leadership have considered several options after the cancellation of the 2020 program and concluded that the best possible option for the continued success of the event is the Hilton Hotel. Expanded hosted industry receptions and training opportunities will be realized as we anticipate fully utilizing the attributes of this outstanding, newly remodeled meeting facility.
Plans will be taking shape and announcements will follow about the wonderful new opportunities this meeting venue provides. MCPR leaders carefully considered the challenges of the 'Big Iron' trade show experience of past years and have received strong support from trade show participants for a trade show in the Hilton Hotel. Expect the same quality of educational opportunities and the social aspects of the meeting to be enhanced by this decision.
The MCPR Board understands the questions that come to mind as we announce this major change in the CPM Short Course and MCPR Trade Show. We will be contacting MCPR members as details become available in designing this new opportunity. But know this…your safety and comfort are upmost in mind as we operate in this new meeting venue in Minneapolis.
Online registration will open later in 2021 - please check back!